Contamination can reduce the lifespan and reliability of equipment

Effective decontamination is a specialised process

Our expertise with decontamination is unrivalled

We use specialised equipment to ensure an excellent result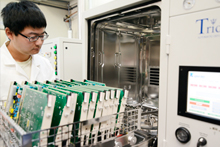 Dust, rodents, insects, smoke and water
Contaminants such as roadside and construction dust, smoke, and water can cause irreversible damage to equipment. Rodent and insect activity can also be a problem. To maximise the lifespan of equipment and support on-going reliability, you need an effective decontamination service.
Effective decontamination requires specialist knowledge
Safe and effective decontamination requires intimate knowledge of electronic hardware and strict adherence to working standards and processes. Loop Technologies offers a proven decontamination service that major telecommunications operators trust.
Specialised equipment
Our decontamination experts use purpose-built equipment to inspect and clean technology equipment, even delicate fibre optic connectors. They understand the detailed construction of circuit cards and their function in the system or network, so can be trusted to look after your valuable and delicate equipment. We also have our own specialised circuit board washer – the only one of its kind in New Zealand – which safely cleans boards to return them to the original condition.
On-site or at our facility
We can work either within our facilities or at your site. We understand the issues of working with live equipment and can collaborate with your people to minimise outages during the required cleaning process. When operating on-site we apply the same high standard of ESD safety as we apply within our own facility.