We have ISO 14001 certification for environmental management

Redundant equipment can be recovered and either refurbished, re-used or recycled

Scrap value is maximised, often resulting in rebates for customers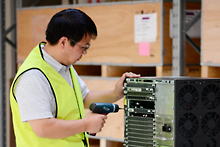 Sustainability is second nature to us
The very nature of what we do – taking careful, conscientious care of technology hardware for its full lifecycle – means sustainability is at the heart of our business. We are always looking for ways to become more environmentally responsible in the management of recovered and  obsolete hardware. Our certification to ISO 14001 is a tangible demonstration of our commitment to environmental sustainability.
Recover, refurbish, re-use
We coordinate recovery of all redundant equipment and can deploy our experts for onsite removal requirements. We will always look for opportunities to refurbish and reuse equipment. When this isn't possible, we organise responsible recycling or disposal.
Maximising scrap value
During the recycling process we apply our knowledge of technology hardware materials to maximise the value of scrap, so that true market worth is realised. Often the scrapping process translates into a rebate for the customer involved.